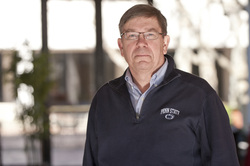 Kevin Cheesebrough
Executive Coach & Leadership Development Expert
As an executive coach and facilitator, Kevin brings significant experience to the study and practice of developing leaders throughout the highest levels of organizations. With a background of nearly three decades in the US Navy, Kevin's leadership experience, both in operational and strategic leadership as well as training and developing rising leaders, has a unique depth and breadth across a multitude of interrelated disciplines.
Kevin works with leaders across all levels, from first-time managers and mid-level management through to senior management and C-Suite executives. His experience spans industries ranging from engineering, software, and technology to government, military, data and research, and academia. His Navy career background has afforded him extensive multicultural experience with leaders across five continents.
As a Professor of Naval Science at Penn State, Kevin was personally responsible for the training and development of over two hundred Navy and Marine Corps officers. He has also taught ethics to senior management students and is a faculty member responsible for training professional coaches in the Duquesne University Coach Certification Program.
Kevin's approach to coaching emphasizes a strength-focused approach to leadership development, wherein he leads coaching by identifying a client's strengths as a opportunity for enhanced development and success.
Kevin is a particular proponent of emotional intelligence and believes that all leadership begins with self-leadership. Kevin earned his Bachelor of Science in Nuclear Engineering from Penn State University and his Master of Science in Management from the Rensselaer Polytechnic Institute. He is a Professional Certified Coach through the International Coach Federation (IFC), and is certified in Hogan Performance Surveys, Center for Self-Leadership Level One, and Clark Wilson 360 Performance Surveys.
Contact Kevin Cheesebrough